Un message en français suit
Dear Friends,
The tougher things get in these unprecedented times, the more we all need a strong community to inspire, encourage and offer advice. IWFC's Facebook page, your virtual clubhouse, is uniquely positioned to do just that. If you haven't checked it out, there's no better time than now to find out what you've been missing.
Some of us have been avoiding Facebook on principle, for reasons we all understand. But now more than ever, it's a great tool for keeping us connected. Through IWFC's Facebook page, we just hosted our first virtual Wine Wednesday. Together, we proved we can amuse and inform one another without leaving our homes. If you're not yet a member of the group, here are five reasons why it could be your lifeline during the pandemic:
Information you can trust on staying safe

A place to ask for help

A place to offer help and leadership if you're able

A way to convene around pressing issues

A place for friendship and fun during isolation
Our Facebook group has already evolved from a bulletin board for news about our members to a virtual sisterhood for members facing challenges they couldn't have imagined until now. When one of us needed to get her ill dog to the vet during social isolation, the Facebook group was there. We want to be there for you too as the group evolves to be whatever you need it to be throughout this crisis--in real-time.
We are stronger together than we are apart, even in isolation. We can share more ideas and have more laughs. Our next Wine Wednesday is March 25 from 5:30 pm to 6:30 pm EST and we'd love to have you with us. Our plan is to do them every Wednesday while social distancing or isolation is required. Watch our Facebook page for details. Never socialized on Zoom before? We're standing by to get you started.

Françoise E. Lyon, President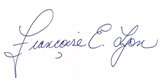 ************
Chères amies,
En ce moment sans précédent, plus les choses deviennent difficiles, plus nous avons besoin d'une communauté forte pour nous inspirer, s'encourager et partager des conseils. Le groupe Facebook de IWFC est parfaitement placé pour ce faire. Si vous n'avez pas encore tenter l'expérience, le moment est venu de voir ce que vous avez manqué jusqu'ici.
Je comprends que beaucoup d'entre nous avions de bonnes raisons d'éviter Facebook, par principe. Mais maintenant, plus que jamais, il s'agit d'un excellent outil de rassemblement. À travers le groupe Facebook, nous venons, la semaine dernière, de convertir le « Wine Wednesday » qui existait à Calgary et à Toronto à travers le Canada virtuellement sur Zoom. Ensemble, nous avons prouvé que nous pouvons nous amuser et nous informer les unes les autres sans quitter nos foyers. Si vous n'êtes pas encore membre du groupe, voici cinq bonnes raisons pour lesquelles il peut devenir votre rayon d'espoir au cours de cette pandémique.
Des informations sûres pour vous aider à demeurer en sécurité

Un endroit où demander de l'aide si vous en avez besoin

Un lieu où offrir une entraide et un leadership si vous êtes en mesure de le faire

Une façon de se réunir autour de questions pressantes

Un lieu d'amitié et de plaisir pour contrer l'isolement
Notre groupe Facebook, jadis un endroit où échanger de nos nouvelles, est devenu une source de solidarité entre nous, une façon d'appuyer nos membres qui font face à des défis qu'elles n'auraient pu imaginer jusqu'ici. Lorsque l'une d'entre nous avait besoin d'envoyer son chien chez le vétérinaire au cours d'une quarantaine, le groupe Facebook a fourni une solution. Nous souhaitons vous accompagner aussi alors que le groupe évolue pour palier à vos besoins tout au long de cette crise—en temps réel.
Nous sommes plus fortes ensembles que seules, même en isolation. Nous pouvons partager plus d'idées et rire plus souvent ensemble. Notre prochain Apéro-Vidéo aura lieu mercredi le 25 mars de 17h30 à 18h30, heure de l'est. Nous prévoyons les tenir chaque mercredi tant et aussi longtemps que nous serons contraintes à la distanciation sociale ou la quarantaine. Surveillez notre groupe Facebook pour plus d'informations. Si vous ne vous êtes jamais servi de Zoom à des fins sociales, nous somme prêtes à vous appuyer pour démarrer votre participation.

Françoise E. Lyon, Presidente