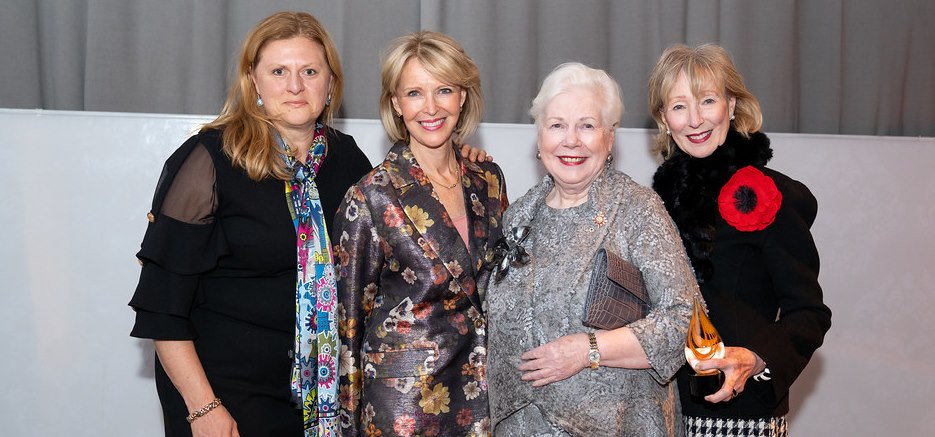 (Left to Right: Françoise E. Lyon, IWFC President, Deborah Trudeau, IWF President (Montreal Chapter),
Honourable Elizabeth Dowdeswell, Lieutenant Governor of Ontario (Toronto Chapter) and Shirley Dawe (Toronto Chapter)

Shirley Dawe has been a part of IWF since 2002. Early involvement led her to the Toronto chapter chair from 2004-2006. From there, she launched a successful three-year task force on forum governance, which was followed by putting her stamp on the IWF Canada president job from 2009-2011. At the Global level, she's been involved in several committees of the Board, notably in revising the By-Laws of IWF and the Leadership Foundation.
Active in business since her early 20s, Shirley uses her five decades of experience and wisdom about leadership and governance to help others make positive changes. IWF Canada created the Circle of Luminaries in 2015 to honour members like Shirley, who have consistently engaged with the organization at every level. In recognition of her dedication to the highest standards of process and partnership development, Shirley is the 2019 Luminary inductee. READ MORE


Shirley Dawe fait partie d'IWF depuis 2002. Sa participation active l'a menée à la présidence de la section de Toronto de 2004 à 2006. Elle a par la suite lancé avec succès un groupe de travail de trois ans sur la gouvernance des forums, puis a été nommée présidente d'IWF Canada, poste qu'elle a occupée de 2009 à 2011. Au niveau mondial, elle a été impliquée dans plusieurs comités du conseil d'administration, notamment dans la révision des statuts et règlements internes d'IWF et de la Fondation pour le leadership.

Active dans le milieu des affaires depuis sa jeune vingtaine, Shirley met aujourd'hui à profit ses cinq décennies d'expérience et d'expertise en matière de leadership et de gouvernance pour aider les autres à opérer des changements positifs. En 2015 , IWF Canada a créé le Cercle des luminaires dans le but d'honorer des membres qui, comme Shirley, se sont activement engagées dans les activités de l'organisation, à tous les niveaux. En reconnaissance de son dévouement à appliquer les normes les plus élevées en matière de développement de processus et de partenariats, Shirley a été choisie comme membre intronisée au Cercle des luminaires pour l'année 2019.

READ MORE